Do you feel like your skin is losing its natural glow? If that's the case, you aren't alone. Bright and luminous complexions are sought after by countless people all over the world – but achieving it can be quite a challenge! Luckily for us, there is a solution: Hydrafacial treatments. This revolutionary facial therapy offers instant results in just one session! Whether you want to enhance your complexion or treat any issues such as hyperpigmentation or fine lines, Hydrafacials have something for everyone. Read on to find out how this effective procedure can help bring back your skin's radiance with just a few easy steps!
What is Hydrafacial?
Hydrafacial is an exceptional medical-grade hydradermabrasion treatment. It encompasses an advanced dermatological procedure that deeply cleanses and detoxifies the skin while simultaneously infusing it with nourishing serums.
A specialized device gently glides over your face, performing the essential steps of a hydrafacial. This innovative skincare treatment utilizes hydrating serums to provide numerous benefits. It has quickly become a popular trend in the industry, with its longevity surpassing expectations.
Why is Hydrafacial Beneficial for Your Skin?
There are several reasons why Hydrafacial is an excellent choice for your skin:
Even Toned Skin
No More Congested Pores
Younger Looking Skin
Improved Skin Texture
No More Blackheads
Spot Treatment Option
Reduced Pore Size
Acne Free Skin
What Does Hydrafacial Before and After Look Like?
Those who have experienced hydrafacial treatment can easily notice the remarkable transformation in their skin's tone and texture. With just a few sessions, you can find solutions to various skin concerns, addressing them effectively. Your skin will feel deeply hydrated, cleansed, and rejuvenated!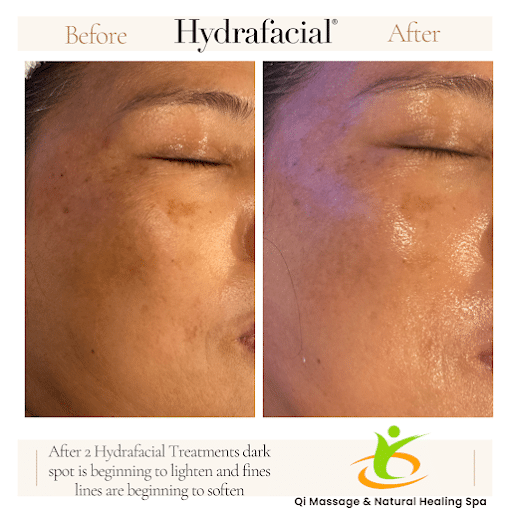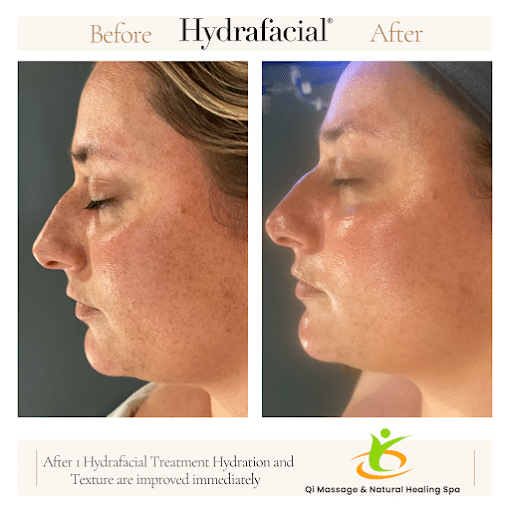 The Steps of Hydrafacial Treatment
Step 1: Skin detox
The initial step of a hydrafacial involves skin detoxification, which is known to enhance lymphatic circulation. This not only promotes increased blood flow, but also facilitates the elimination of toxins. Skin detoxification, performed through a lymphatic massage, aids in the draining of accumulated lymphatic fluid from the nodes, thus improving oxygen supply. This process not only helps restore the texture and tone of the skin, but also provides a deeply relaxing experience.
Step 2: Cleansing and Exfoliation
The following stage in the hydrafacial process involves cleansing and exfoliating the skin. This crucial step aims to eliminate dead skin cells through the use of a deplaning device. As the device glides across the face, it effortlessly unclogs the pores and rids the uppermost layer of the skin of any debris or dead cells.
Having open pores can contribute to improved skin hydration. When your skin is burdened with dead skin cells, it may appear lackluster. Therefore, the initial step towards achieving radiant and vibrant skin is the elimination of these dead skin cells.
Step 3: Acid Peel
Although the term "acid peel" may sound painful, it is actually quite the opposite. Unlike previous methods, this particular acid peel is not a painful procedure. It utilizes a combination of glycolic acid and salicylic acid to gently loosen the pores. This unique mixture is not irritating, unlike most glycolic peels, and does not cause any discomfort.
Step 4: Vortex Extraction
The next phase of the hydrafacial treatment involves extractions, which can be both fascinating and slightly repulsive. You may have come across those intriguing videos showcasing facial extractions, where debris is removed from the skin. Well, that's precisely what happens during this step. Unlike traditional manual extractions, the hydrafacial method employs vortex extraction. Using a specialized nozzle, a vacuum is created to effectively draw out impurities from your skin.
Step 5: Serum Application
After the extraction, the serum is applied to your skin, providing a nourishing blend of collagen and antioxidants. This infusion promotes skin elasticity and hydrates your skin effectively. The unique vortex-fusion device used ensures a gentle application without causing any redness or burning sensation.
Step 6: Rejuvenation
In the rejuvenation phase of the hydrafacial treatment, a soothing LED light is applied to the skin. This gentle exposure to LED light helps reduce skin redness and stimulates collagen production, resulting in smooth, radiant, and youthful-looking skin. With this comprehensive six-step procedure, you can achieve a rejuvenated complexion that exudes beauty and vitality.
Glow Up With Hydrafacial from Qi Massage & Natural Healing Spa
Hydrafacial is an advanced and non-invasive skincare treatment that provides numerous benefits for improving skin health. With its six-step process, it effectively detoxifies, cleanses, exfoliates, extracts impurities, infuses nourishing serums and rejuvenates the skin. At Qi Massage & Natural Healing Spa, we offer personalized hydrafacial treatments to cater to your specific skin concerns and needs. Our skilled estheticians use the latest technology and techniques to provide you with a relaxing and effective experience. Contact us today and let us help you get that radiant, youthful complexion you've been dreaming of!