In our fast-paced world with much of the medical profession focused on symptom relief instead of achieving a higher level of optimal health and wellness to overcome health problems, you might feel like there is nothing you can do but fill a prescription or accept pain and discomfort. If you are in good health, you may be thinking that problems down the road are inevitable. The reality is that you can continue with good health and overcome problems by learning about natural techniques for prevention and optimized health and wellness. Here are a few of the treatment options to consider:
Treatments for optimal health and wellness
Detox
From the questionable foods we eat every day to the toxins in our personal care and cleaning products to the air around us, our bodies can have a difficult time, you might feel like there is nothing you can do but fill a prescription or accept pain and discomfort. There are many different detox methods available and some can be a bit inconvenient. One type that you might consider that will give you the benefits of a detox and an enjoyable experience is a Himalayan salt foot detox. An herbal detox is another gentle way to rid toxins from your body for improved health and wellness.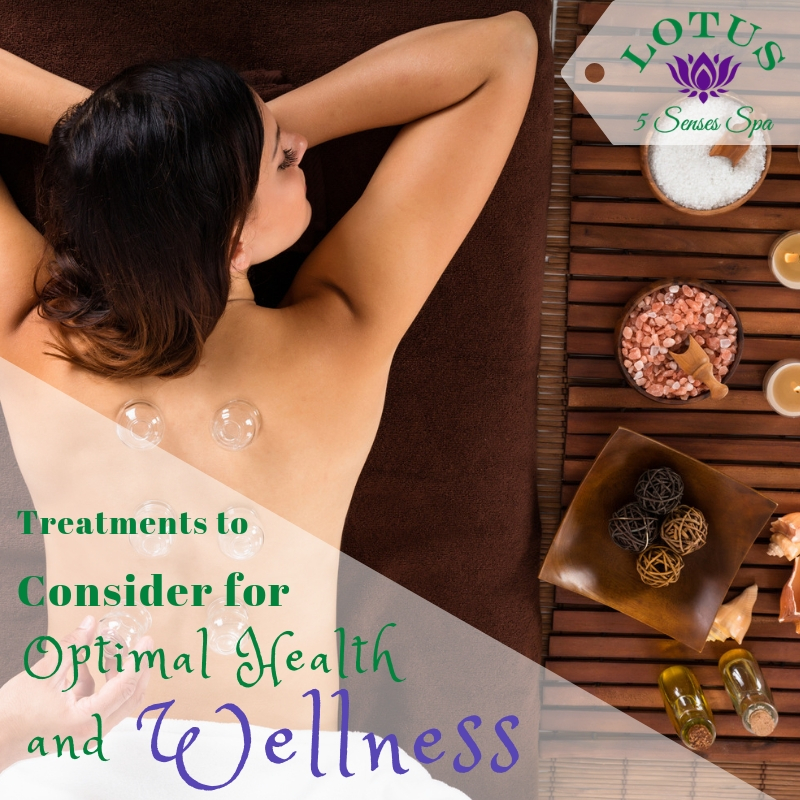 Vichy Shower
If you get home at the end of the day and head to your bathroom for a long shower, you know how much a bit of warm water can help. A Vichy shower is a unique avenue for muscle relaxation and increased circulation. You lay horizontally on a special table and a row of showerheads suspended above you deliver a warm, soothing stream of water to your entire body at once. This method for health and wellness originated in Vichy, France where people found that lying on a stone table under a hot spring was relaxing.
Asian Cupping Therapy
This ancient form of alternative medicine involves using special cups to create suction on the surface of the skin. It is used for improving relaxation and wellbeing but is also effective at increasing blood flow, minimizing inflammation, and reducing pain. It removes "heat" from your body and pulls out toxins. Consider this treatment for such conditions as blood disorders, varicose veins, depression, anxiety, migraines, high blood pressure, bronchial congestion, and more.
These are just three of the treatments we utilize here at Qi Massage & Natural Healing Spa for improved health and wellness. Our stimulating treatments will relax your body and mind. Come talk to us about what you would like to accomplish, and we'll be happy to make recommendations about the best options for your situation.